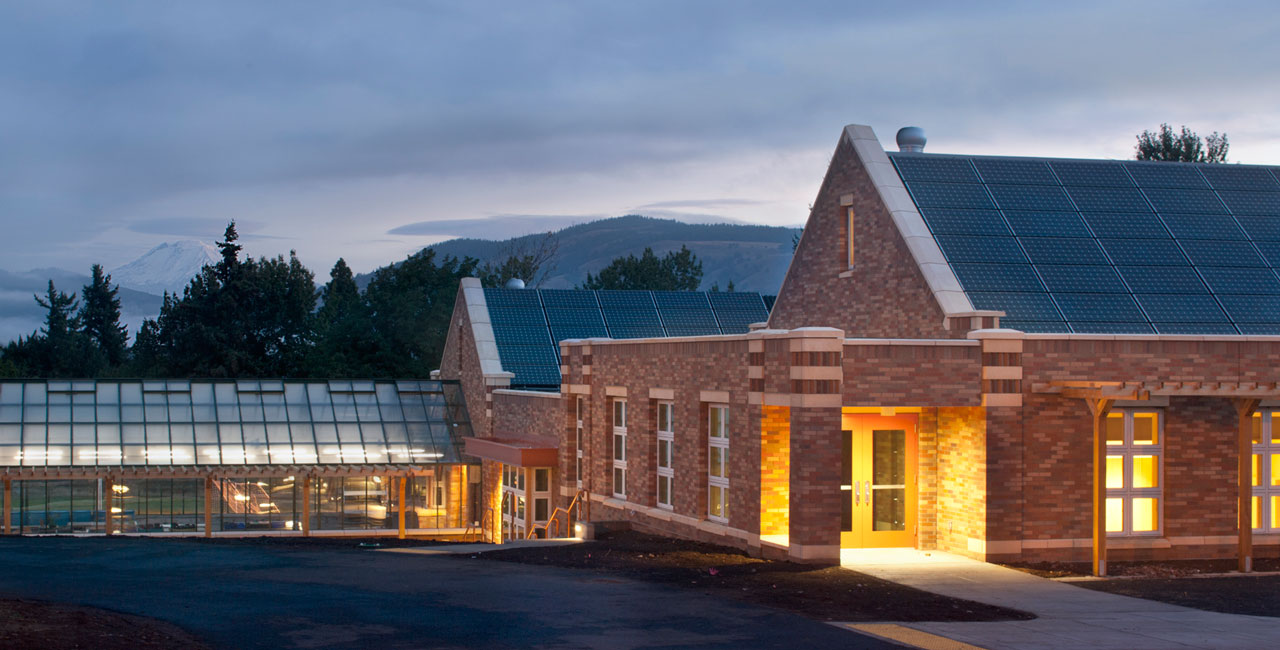 Michael Mathers
Buildings that Make the Grade
Case Study
Apr 15, 2012
In school districts throughout the United States, administrators, teachers and students are focusing their time and energy on passing tests and meeting benchmarks for academic performance.

Likewise, when renovating and building new school facilities, school districts expect that goals will be set and benchmarks will be met through measuring performance for energy efficiency, water conservation and occupant comfort.
Over the last few years, the movement towards high performing buildings has resulted in more than 12,000 US Green Building Council (USGBC) LEED Certified buildings and over 100 project teams registered to pursue the aggressive parameters of Cascadia Green Building Council's Living Building Challenge. It is clear now that the building owners expect high performance buildings to deliver results as promised. But what assurance does a school district have that these forward-thinking buildings are actually performing as anticipated?
Because we regularly work with school districts on capital planning and design projects, Interface is keenly aware of the economic challenges faced by nearly all public school districts. While many K-12 districts would benefit greatly from new school facilities that are designed from the beginning as high performance buildings, the majority of K-12 school districts are dealing with more basic issues—such as how to get more efficient systems and increase occupant comfort in existing buildings that were built decades ago.
To respond to the realities of budget challenges, we recommend three levels of steps school districts can take to improve building performance.
Level 1: Low cost measures for immediate improvements in existing buildings
Review and modify HVAC equipment and lighting schedules
Review and modify space heating and cooling set points
Perform routine maintenance to ensure equipment is operating at optimal l efficiency
Seal leaks
Decrease plug loads
Track utility bills closely
Level 2: Evaluating older buildings for significant efficiency retrofits
Learn about technical assistance programs available from the serving utility companies and state government
Hire a consultant knowledgeable in building performance issues to help determine energy usage, water consumption and occupant comfort shortcomings
Ask consultant to interview knowledgeable building staff to identify problem areas such as high utility bills, overuse of energy and water, faulty equipment, uncomfortable conditions, etc.
Conduct a recommissioning audit to identify low cost/no cost measures to make adjustments to the building's existing systems
Look at first cost and simple payback costs to help prioritize and determine ROI
Reduce utility bills by evaluating the heating and cooling systems, building envelope, building controls, and water systems
Consider potential capital improvements such as changing out boilers, chillers and control systems that are near the end of their useful life
Work with the design team to find strategies with multiple benefits such as providing better windows as an architectural strategy while also reducing the building cooling load
Conduct a one-year review after installation to determine that the upgrades are performing as predicted
Level 3: Designing new high performance facilities
Make building performance—especially energy efficiency—part of the design team's earliest conceptual design phase by using computer applications such as Interface's new design tool, QuickEUI (Quick Energy Use Index)
Once the design is more detailed, have the team's energy analysts use more complex computerized energy modeling and data collection tools to conduct a deeper review of building performance, creating specific solutions to conserve energy and water, ensure building functionality, and extend equipment service life
Design sub metering devices into individual buildings to track overall energy consumption and isolate energy end use categories
Expand construction administration services and integrate project commissioning to proactively participate in solving problems in the field, educating facilities and maintenance staff for functionality—and learn from each project in a continuous feedback loop
Lay groundwork during the design phase for successful post occupancy evaluation to effectively track the metrics of building performance such as the costs of energy and water, operation/maintenance, and occupant comfort
As energy and water costs climb higher, it is more important than ever for K-12 schools to maximize all opportunities to reap the rewards from more efficient and more comfortable high performance buildings. From making small changes in older facilities to designing brand new schools, K-12 districts can find ways to ensure their buildings truly "make the grade" through achieving energy efficiency, water conservation and occupant comfort.