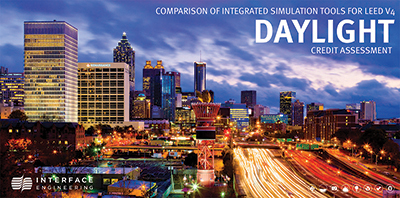 Comparison of Integrated Simulation Tools for LEED v4
Daylight Credit Assessment
Oct 02, 2014
Dr. Ladan Ghobad, Sustainable Design / Energy Specialist with the Washington, DC Office of Interface Engineering, will present on climate-based daylight modeling. She will give an introduction to LEED V-4 Daylighting Metrics and compare DIVA and Openstudio daylighting simulation tools. The program will compare two cases of side-lighting: a space with no shading device and one with overhang and light-shelf. The two simulation tools will be compared in terms of Spatial Daylight Autonomy (sDA) and Annual Sunlight Exposure (ASE), which are the metrics of LEED v.4. Validation of the results will be performed by experiments under real sky conditions.
WHEN: Wednesday, September 10 - Friday, September 12, 2014
WHERE: Atlanta Marriott Buckhead | 3405 Lenox Road Northeast, Atlanta, GA
REGISTRATION: www.ashrae.org/membership--con...