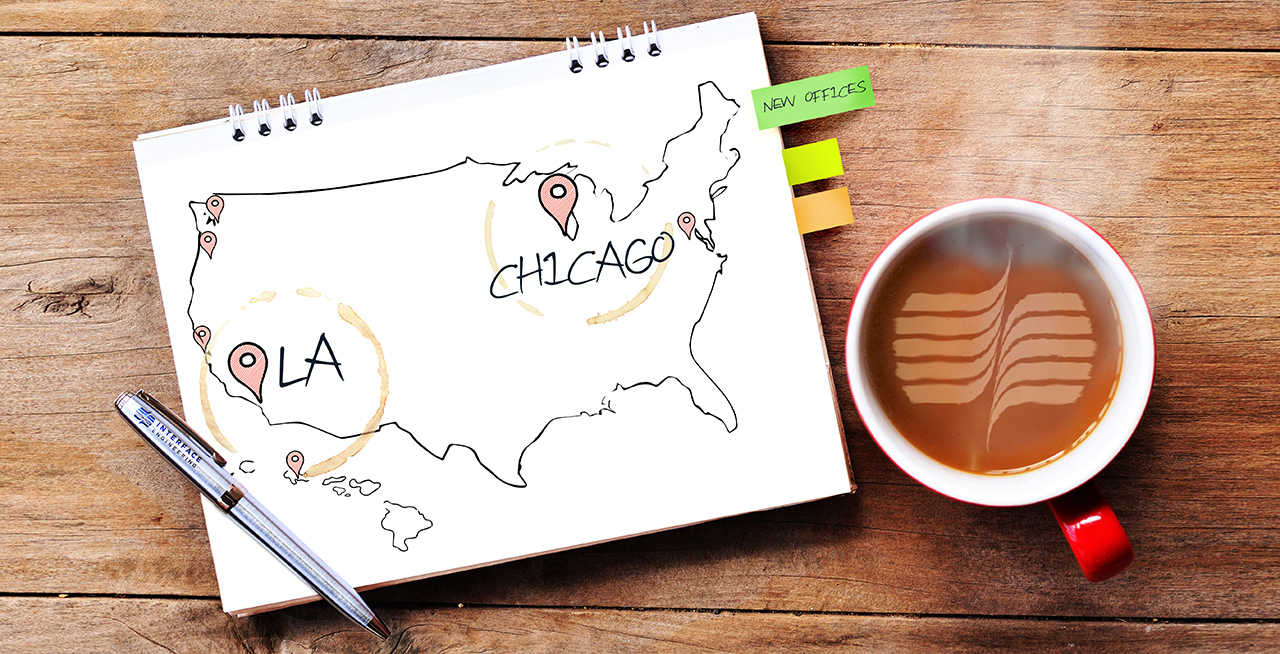 Chicago + Los Angeles
Welcoming New Offices and Leadership
Aug 10, 2016
Interface Engineering is thrilled to announce we are expanding our presence on the West Coast and in the Midwest. This summer marks new beginnings as we celebrate the opening of offices in Los Angeles and Chicago.
These strategic locations provide clients with even better access to our innovative team members and shared technical expertise. It also allows for more design collaboration as we continue to develop our portfolio in key market sectors and regions.
Los Angeles
Our Los Angeles office, led by Principal Eugene de Souza (PE, LEED AP, Senior Mechanical Engineer), opened its doors in July 2016. Eugene brings over 25 years of integrated design leadership to his work, and often collaborates closely with clients through the entire project lifecycle. The southern California location not only bolsters our ability to grow and serve our regional clients, it also enables increased involvement in supporting the region's progressive water and energy efficiency goals. Our local portfolio includes aviation, multifamily, higher education, central utility plants, and master plans.
Chicago
Principal Tom Voltaggio (PE, Senior Electrical Engineer) leads our Chicago office, and brings 40+ years of global multidisciplinary engineering design and management experience to his role. An experienced problem solver for energy consumption reduction, he works effectively with teams to design and implement systems that are the most economically and functionally suited to each project. Tom has a reputation as an effective communicator, which has enhanced his success in leading project teams and maintaining strong client relationships.
Our Chicago team has worked together for several years, and uses advanced building tools to provide specialized expertise in several markets, including existing building infrastructure renewal, higher education, healthcare, and supertall buildings.
Mark Blazis (Associate Principal, PE, LEED AP) has 20 years of experience as a mechanical engineer, and specializes in district heating and cooling for multiple building types, including healthcare, higher education, and laboratory design. He has also led multiple award-winning projects, including a six-phased building at the University of Illinois, which received an "Excellence in Engineering" honor (ASHRAE Illinois Chapter) and the "Refrigeration Comfort Cooling Award for Project Excellence" (ASHRAE). Mark is a Registered Energy Professional in the City of Chicago.
Craig Burton (Associate Principal, PE, LEED AP BD+C) focuses on the analysis and integration of high-performance design strategies for buildings and urban places. Using advanced software tools, he works to bridge the gap between the engineer and the decision maker with performance data, analytics, and whole lifecycle costing. In 2014, Craig was named one of ENR's "Top 20 Under 40″ design and construction professionals in the Midwest. He is also an effective and sought after speaker on high performance buildings and the infrastructure systems that support them.
Marty Lunkes (Associate Principal) brings more than 35 years of experience in the field of controls engineering and mechanical systems operation to his new role. Using vendor proprietary and open protocol technologies, he has designed automation and control systems for 200+ new and existing buildings.