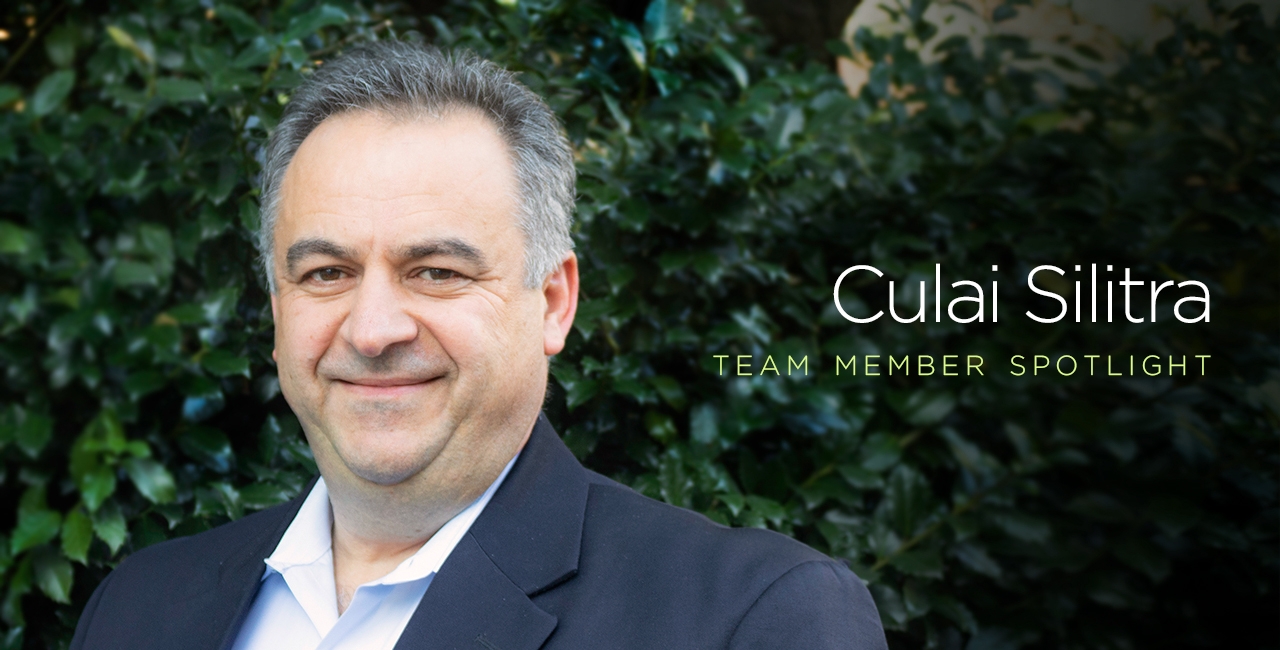 Team Member Spotlight
Culai Silitra
Oct 31, 2019
Culai Silitra, Senior Electrical Engineer, joined the DC office in 2018 and serves as the Electrical Engineering discipline leader. On any given day of the week, regardless of workload, impending deadlines, or last-minute requests from clients, you can always count on him to remain positive. If you ever ask Culai how his day is going, his response will always be the same, "I'm living the dream."
Culai, the youngest of four siblings, was born into a family of farmers in a North-East Romanian village. He Culai, the youngest of four siblings, was born into a family of farmers in a North-East Romanian village. He spent the first 18 years of his life under Romanian socialist-communist rule, which offered limited opportunities for blue collar families. At a very early age, Culai recognized that earning an education would be the way out for him, so he began studying hard to ensure admittance into college, where limited seats were available.
Culai specifically recalls two high school teachers who mentored him in math and physics. They always provided guidance to ensure that he was reaching his potential in both subjects. To this day, he feels very fortunate and credits them for paving the way to his engineering career. Having benefited from mentorship himself, he sees the value in mentoring the younger generation. Why electrical? He has always been amazed by how many things are impacted by electricity. Simply put, buildings are not complete without it.
When Culai reflects on his experience here at Interface, he recalls joining the firm and adopting a team of engineers in need of an electrical lead with broad design experience to help them navigate their way through some very large and often complex buildings.

The positive impact that Culai has made since joining the DC office is tremendous. He is an engineer, a teacher, a mentor, a leader and a voice of reason in a dynamic office Every day he teaches something new. We are better with Culai in the mix. - Roger Frechette, Managing Principal
Since joining the firm, Culai has been instrumental in implementing new processes for the electrical team. One of his greatest successes includes a weekly training program where every team member is encouraged to choose a topic to present to others, followed by open discussions that encourage collaboration and innovation. Some topics include generators, fire pumps, elevators, receptacle layouts, service calculations, among others. He is a strong believer that these collaborative team discussions promote innovative "sparks" that can be implemented into their designs.
Culai is a 'ready to help' individual who put our electrical team on his shoulders the minute he joined Interface. He truly cares about the team's development and helps us grow through group and/or individual discussions. I am glad to be on his team, as I learn from him professionally and personally every day. - Luis Riveros Luque, Electrical Designer
In addition to the new training process, he has created extensive QA/QC lists for SD, DD, 50%CD, 75%CD, and GMP phases to ensure that designers are focused on specific requirements for each submission while juggling multiple tasks and managing their time.
Culai notes that he really enjoys his role as technical lead because it allows him to engage in many aspects of the profession. Apart from staying abreast of the latest technologies and trends, he also appreciates the opportunity it provides to teach younger engineers ways to design simplified, robust, electrical systems. With 24 years of experience, Culai offers a wealth of knowledge to all.
Affectionately referred to as "The Professor" by his mentees, the future looks bright for Culai and his team. He intends to forge forward in the development of a strong electrical group by continuing to foster a collaborative and empowering environment.
Culai has been a great addition to the team. He is always willing to assist in any way that he can and also willing to share his knowledge. - Amos Fye, Electrical Designer
When Culai is not coming up with innovative electrical design solutions or mentoring staff, he serves as an active member of the Romanian Orthodox Church. Recently, he assisted them in the design of the electrical distribution system for a new Romanian church in Potomac, Maryland. Once an avid and fierce tennis player, Culai now enjoys the sport from the sidelines due to an old fracture which keeps him off the courts. He also spends time relaxing at home in the kitchen, making specialty Romanian soups while enjoying his very own hand-crafted black cherry liqueur.