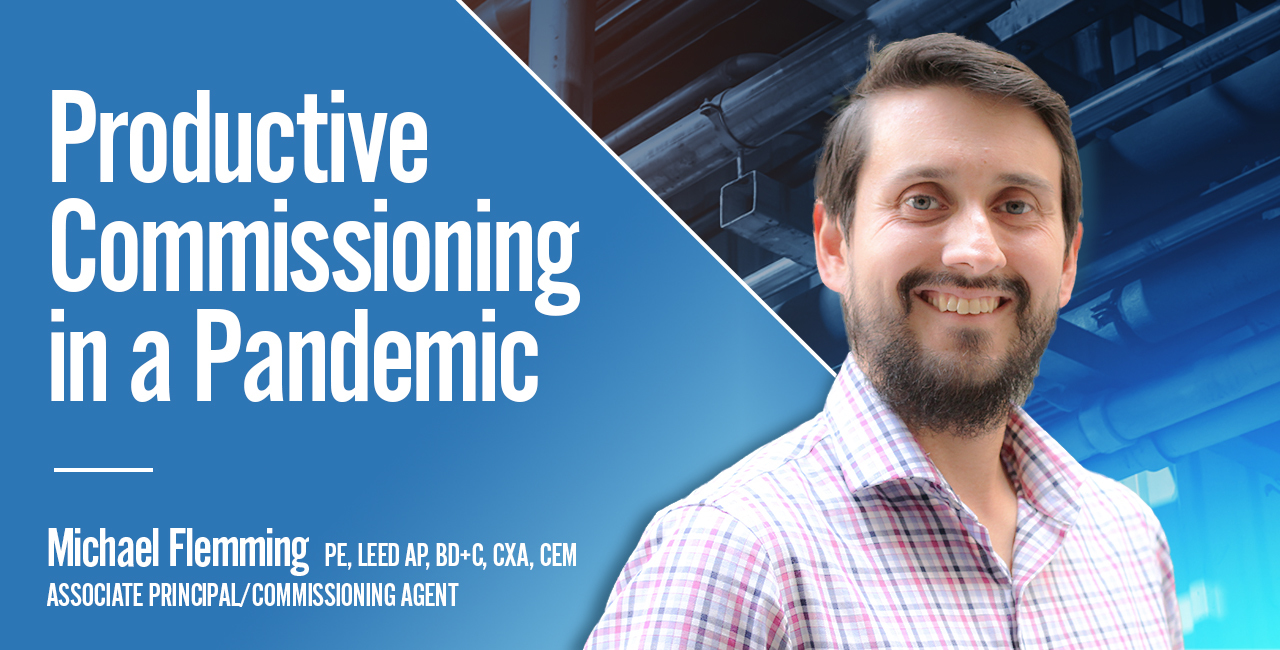 Productive Commissioning in a Pandemic
Mar 31, 2020
While it's easy to look at Commissioning as a service that must be done in the field and that progress must cease when construction projects are on hold. However, our experience says otherwise, there is much more that can be done to ensure that projects keep moving, and this has been put in great practice during our current Pandemic.
Over the last week, and moving forward into the next few weeks projects all around the country will need to find creative ways to ensure that we continue to move forward and that we are all ready to go and grow when we all get the green light to head back out onto jobsites.
The following are some ways that Interface Engineering continues to effectively commission projects even with an ongoing pandemic and how we're able to continue to be even more adaptable moving forward. While none of these items will replace the fieldwork that will need to be done to finish commissioning, these tools allow for progress to be made so that schedules do not need to be as greatly affected. This has been especially relevant as a large quantity of Interface's projects are essential facilities (hospitals, skilled nursing facilities, areas of refuge, police stations, community centers, fire stations, etc.).
Cloud-Based Documentation
On all projects, but especially during times when site access is limited, cloud-access to all commissioning documents helps to make progress much easier. By having open and transparent document control it's easy for all team members to be able to make progress on documentation and be able to see the current status of site progress. There are many different types of software being used on commissioning projects, such as Facility Grid, that allow for increased clarity on projects. By utilizing a cloud-based software it makes it easier to check on progress without having to take the risk of going on site and for team members to document all that is being completed. During times like these, anything that helps to limit the number of bodies on site makes for a safer project for all!
Web-Based Controls
As more and more projects setup remote connections as part of regular operations, the ability to keep commissioning going is very valuable. Especially as more and more contractors are no longer on site due to current policies, being able to remote into a system and review trends from the comfort of your "temporary" home office allows for controls logic and system operations to be reviewed in real time. Beyond utilizing web-based systems, tools like TeamViewer and Remote Desktop help to make remote connection possible when the infrastructure for permanent access is not possible.
Remote Troubleshooting
Furthermore, once connected, a skilled Commissioning Agent/Authority can review the logic and manipulate setpoints to ensure that the programming is setup correctly. This allows many simple issues to be resolved before site work is needed. Troubleshooting a system cannot be totally completed remotely. After utilizing what's available remotely is complete, a plan of action can be developed in order to troubleshoot and resolve any known issues once works starts again.
Video Conference
There will however get to a point where site work is required, especially on Essential Sites and the safety of all team members will be paramount. If the project continues to proceed to a point where all logic has been reviewed and field conditions need to be verified, during this pandemic no project is operating as normal. However, we are lucky to be in a time where communication can seamlessly occur while maintaining the important 6 ft of separation. Utilizing FaceTime and other video conference tools allows for team members to keep their distance while still being able to troubleshoot and solve issues, or for secondary team members to stay home while still being responsive and able to assist in problem solving.
Doing TAB verification, verifying thermostat calibration and ensuring valves stroke correctly are all examples of field work that must be completed during the commissioning process and can still be completed on Essential Sites while properly maintaining 6 ft of separation. Utilizing Remote connections and physical barriers to ensure separation (see image below with a controls contractor behind the door!) ensures safety for all team members.
It's not a process that anyone should take lightly, and all precautions should always be taken to ensure that all team members are taking the situation seriously and doing everything they can to remain safe. However, thanks to current technology and the infrastructure available on projects the work must go on so that our future buildings are ready for when everyone is ready to get back to work!