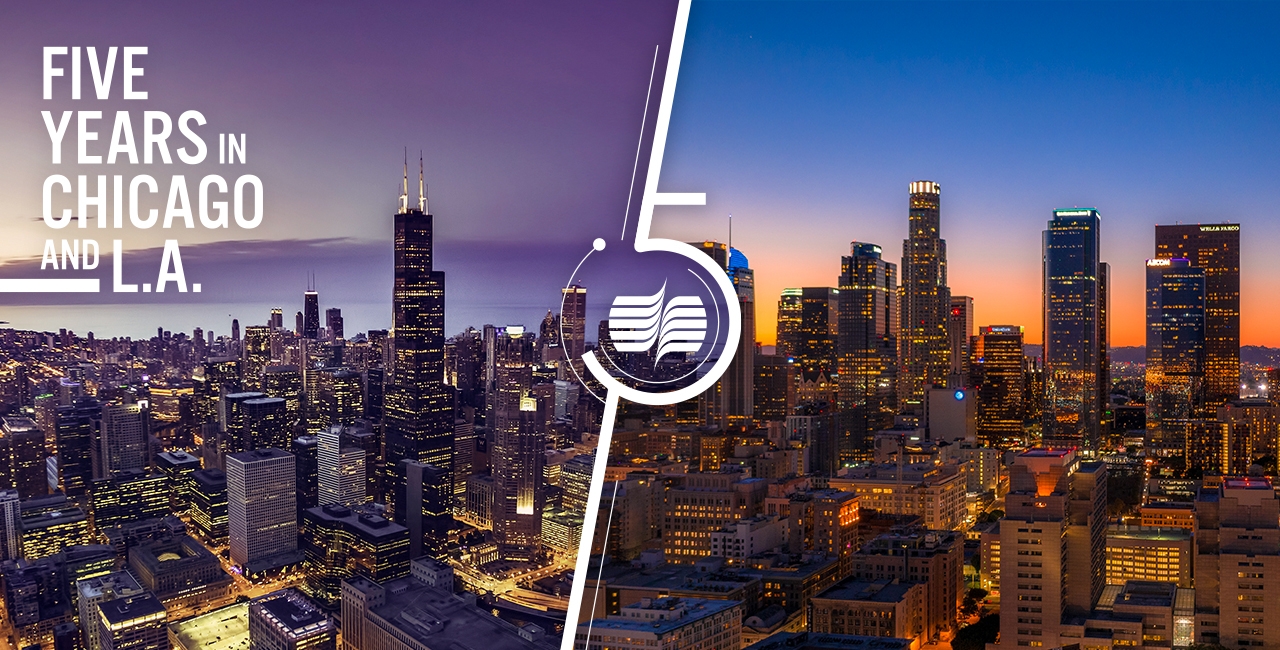 Celebrating Five Years
Happy Five-Year Anniversary to Chicago + LA!
Jul 29, 2021
Our Chicago Office has grown into a respected and sought-after MEP firm in the Midwest with clients and projects around the world. Through their dedication to quality and service, they have developed strong relationships with Owners, Architects and Startups to leverage the potential of engineering to improve our built environment.
A few of the most exciting project work to date includes:
MEP design services at many of the state's colleges and universities – University of Illinois at Urbana/ Champaign, University of Illinois At Chicago, Illinois State University, Northern Illinois University, and Waubonsee Community College.
Scotia Center – A whole building retrofit of a 13 story corporate office building in Kingston, Jamaica.
Uptown500 – A new suburban apartment building serving the Chicago market pushing the boundaries of energy efficiency.
University of Illinois at Chicago Commissioning Retainer - numerous projects on campus culminating with a COVID Ventilation Assessment of over 400 air handling units across all five of their campuses in preparation of the fall 2021 semester.
Franciscan Heath - Multiple projects including AHU replacements, equipment upgrades, system enhancements, and a pharmacy evaluation.
Likewise, our Los Angeles Office has become a significant consulting boost to the Southern California region, bolstering an already strong Northern California office and presence as well as our overall corporate presence.
The Los Angeles team has brought some incredible projects to our overall portfolio including:
McKinney Municipal Complex – A new municipal complex in Texas.
A confidential high-rise hotel and mixed use building in downtown Los Angeles.

UC Merced's 2020 Lab buildings 2A and 3A / LEED Platinum.
In the next 5 years, we are looking forward to seeing these design efforts through construction and to expand their client base and brand recognition throughout the region. We can only imagine the future of these offices, and we look forward to the full potential as we continue to expand our services.
Our firm has grown significantly with a lot of talented individuals. The strength they have added to Interface Engineering has expanded our experience and expertise and added an amazing number of years' experience to our company.