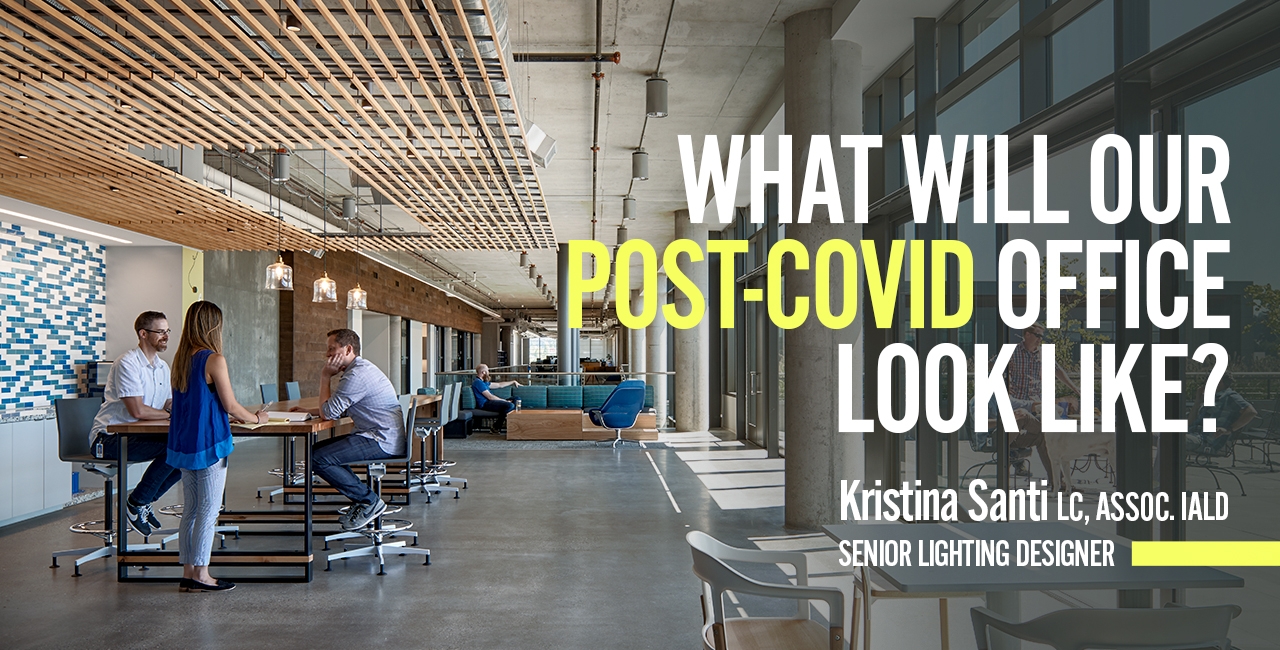 What Will Our Post-COVID Office Look Like?
Aug 31, 2021
That is the question everyone is asking as we slowly approach our 'back to work' office dates. Some approach it with excitement, finally some human interaction in person! But others are cautious, the world has changed and now the thought of pressing a light switch or an elevator button suddenly conjures disgust and a search for the nearest hand sanitizer.
The need for open spaces that promote collaboration for employees has increased as well as outdoor areas where certain staff who may not be comfortable indoors in close quarters can sit when it gets crowded. Flexibility is key to cater for all staff and their concerns.
The way we design and renovate these spaces has also changed. For many years we have had automatic lighting controls available where we can use vacancy sensors to automatically turn lights off without touching a button. Currently CA Title 24 only requires vacancy sensors to turn lights off in most spaces but we can use those same sensors and program them to turn lights on (as an occupancy sensor) and also off with no additional cost to the client. We can also use automatic time clock control in larger facilities to turn lights in public spaces on and off during business hours, so staff don't need to turn them on and off every day. Replacing existing controls can become very attractive when also considering the potential energy savings, up to 50% of lighting energy can be saved by adding vacancy sensors in private offices. Refer to the table below for some common spaces and their potential energy savings.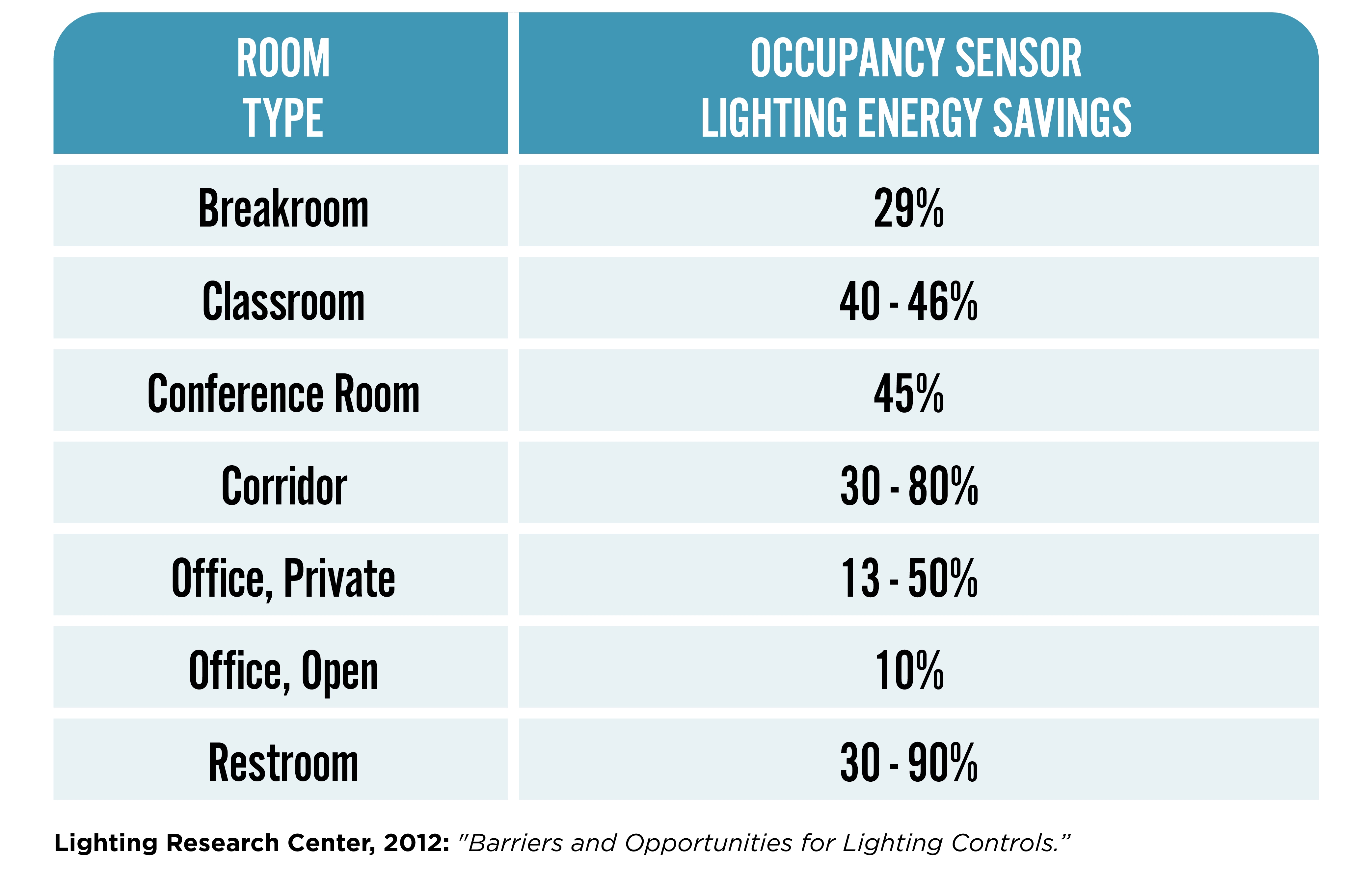 Seeing the current wildfire and flood disasters not only in the US but around the world brings the relevance of energy savings to the forefront.
It is not just lighting controls that effect staff in office environments, lighting and thoughtful lighting design helps create a comfortable atmosphere where we can reduce stress and promote a healthy working environment. Selecting or replacing luminaires so that they are flicker-free and low glare will reduce headaches, discomfort, eye strain and decreased performance. A study conducted by the American Society of Interior Design indicated that 68 percent of employees complain about the lighting situation in their offices. So making sure we provide enough light and are providing it at the task area with minimal glare in occupied work spaces is important. Adjustability is key, as the perception of the 'right amount of light' over different employees varies with age, medical eye conditions, position of the viewer, and task type. The cost savings from changing out fluorescent luminaires to LEDs are also considerable. The US Department of Energy in Washington D.C retrofitted 35,000 existing fluorescent tubes to TLEDs in 2018. The project cut lighting energy use by about 50% and is expected to save 2.4 million kilowatt-hours (kWh) annually, amounting to nearly $258,000 in annual energy cost savings.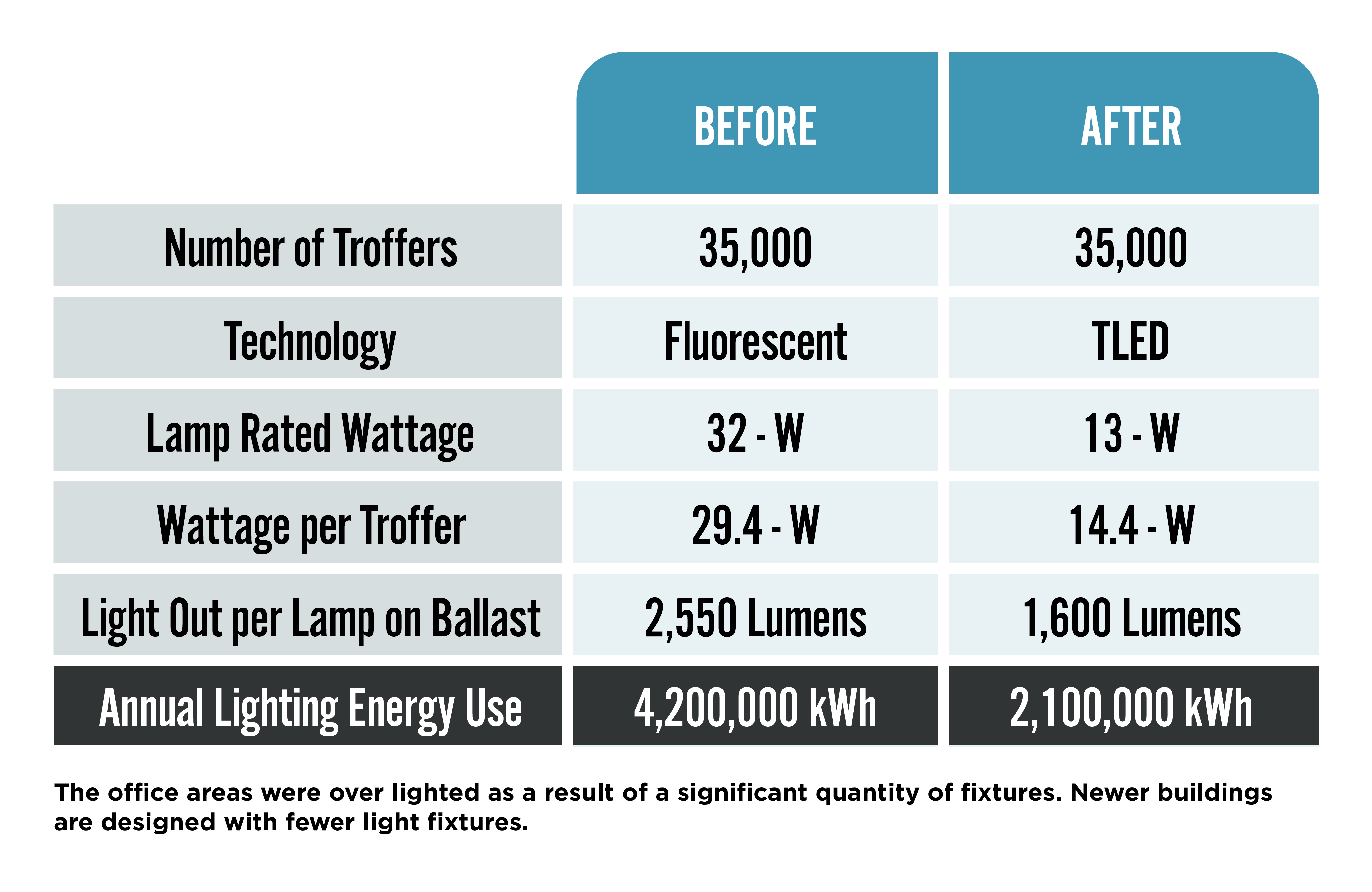 Other studies have also found that a one to one replacement can be typically a third of the cost of a new redesign when existing fluorescent luminaires are present.
Employees returning to the office will want to emulate that 'homelike' feel so spaces need to be warm and inviting. Using warmer color temperatures in lounge and breakout spaces where employees can take a break or at a higher level using tunable white luminaires and controls to change the color temperature throughout the day will help adapt to the body's natural circadian rhythms.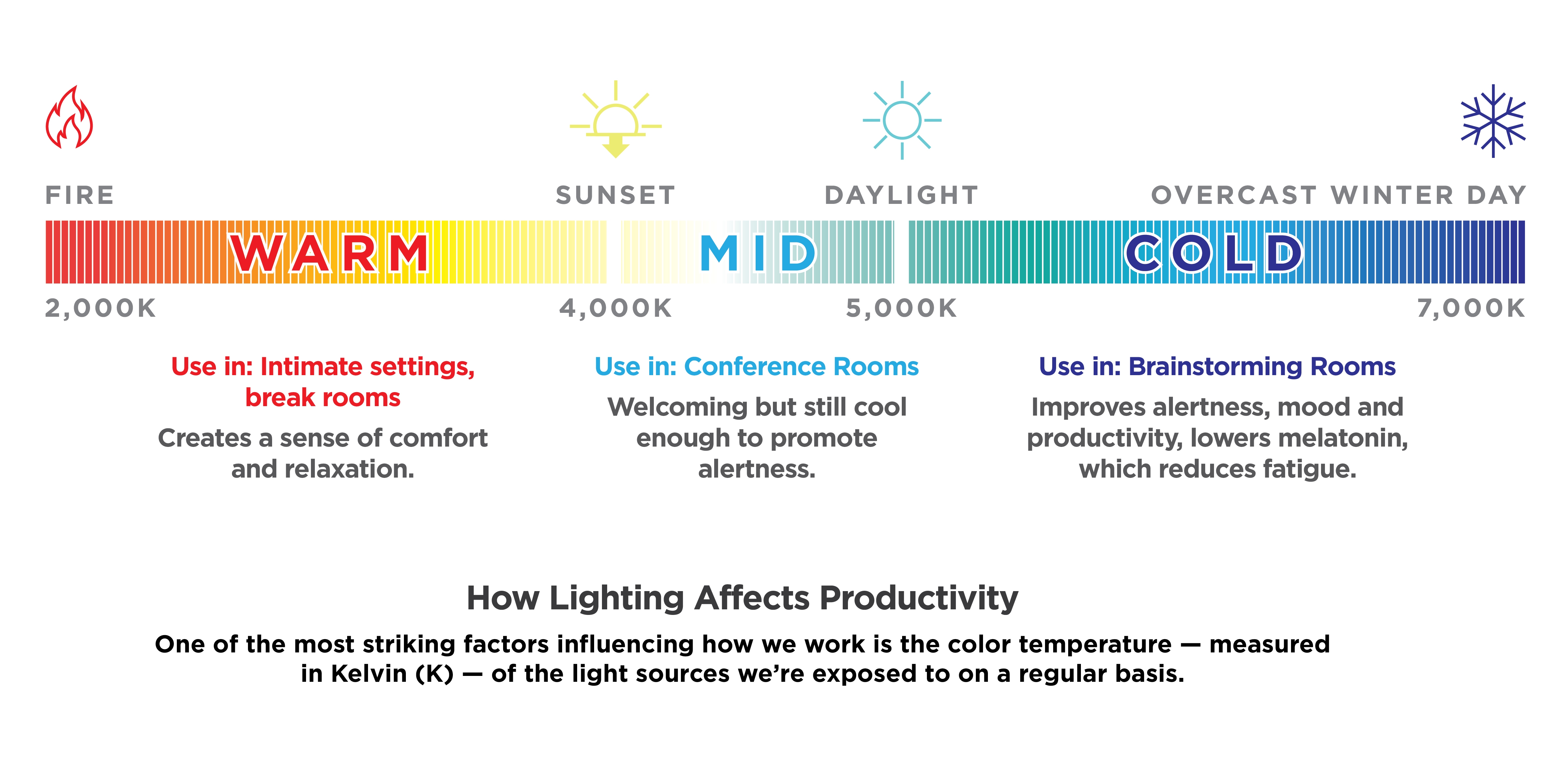 Many companies have also been quick to release their UV and germicidal luminaires into the market. We should be careful when evaluating these luminaires for the safety and effectiveness of each product. Exposure to UV-C wavelengths can cause burns to the skin and eyes and studies on the long term effects are still being developed. However to help minimize the risks associated with UV technology, UL issued the first edition of UL 8802, the Outline of Investigation for UV Germicidal Equipment and Systems, on Sept. 1, 2020. Several manufacturers have leveraged UL 8802 to bring innovative germicidal UV solutions to market. The most popular currently uses upper air disinfection, using indirect light within a luminaire to sanitize the air above in combination with adequate air movement with no exposure to the occupants below. Even with these luminaires proper maintenance and safety protocols for replacement are important.
While these times seem scary it's a great opportunity to be innovative and to re-think how we design spaces, not only office spaces in the short term but for the future. There are many ways in which we can improve our office environments, while saving energy and saving our clients money in the long term.