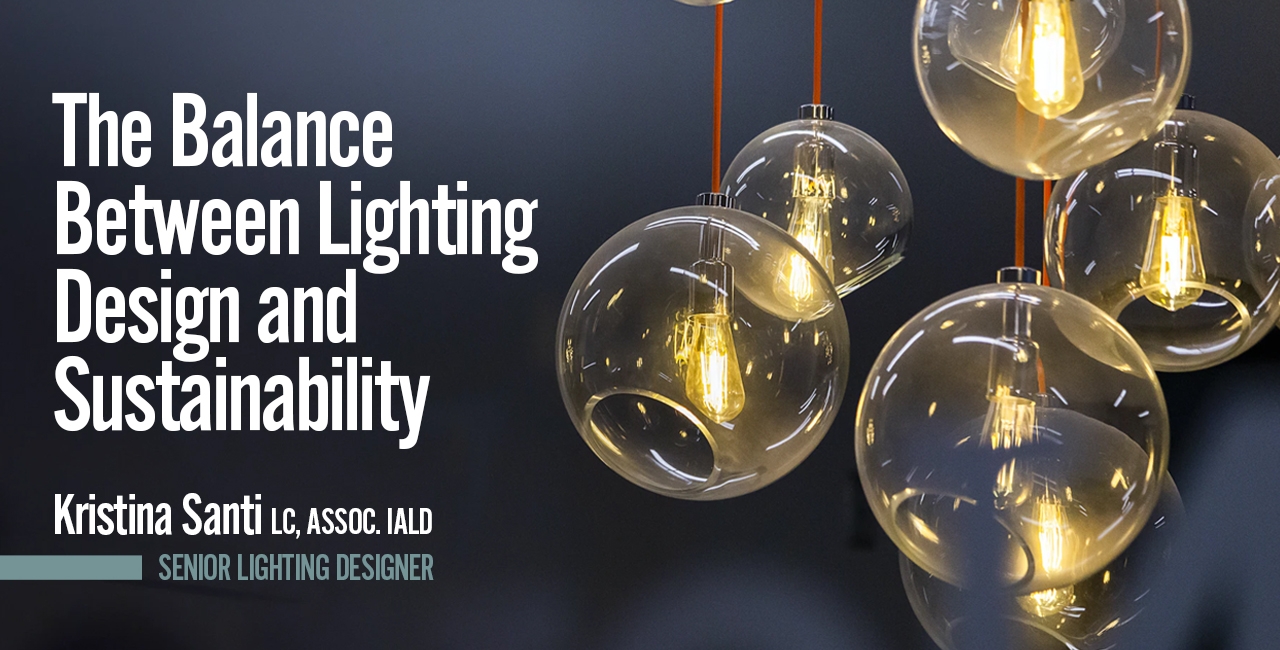 The Balance Between Lighting Design and Sustainability
Dec 08, 2022
I recently attended Greenbuild 2022 for the first time where I met people from all walks of life, from recycling companies that advised you how to reduce waste to manufacturers of sustainable wood veneers promoting their wares. The one thing they all had in common was a desire to each play a small part in reducing the impact we have on the environment. It made me think, how are we as lighting engineers and designers playing a role in reducing waste and being more sustainable?

While we all want to play a part in being sustainable, there are always the limitations we face and the impact that has on not only the quality of light but the overall lighting aesthetic we provide. With the change of the California Title 24 energy code requirements starting January 1st 2023 we see an even tighter squeeze on the amount of wattage we can have in our buildings in order to meet code. The new 2022 code sees a further decrease to a little over 7% each for office buildings, school buildings and assembly buildings. The 2019 code change already saw drastic lighting power density changes to these areas (18%, 31% and 50% respectively). It has now come to the point where we as lighting designers are not able to meet both IESNA recommended lighting levels and CA Title 24 codes in some situations. So what can we do in these situations? It takes a lot of careful and investigative work from the designers to balance out reducing wattage in some areas where we don't need higher lighting levels and putting it in areas we do. We can also leverage decorative/display LPDs in some cases. But that doesn't work in all cases. Sometimes the project suffers when layers of light are removed from a project or uplight has to be sacrificed to get light on surfaces and wattages down.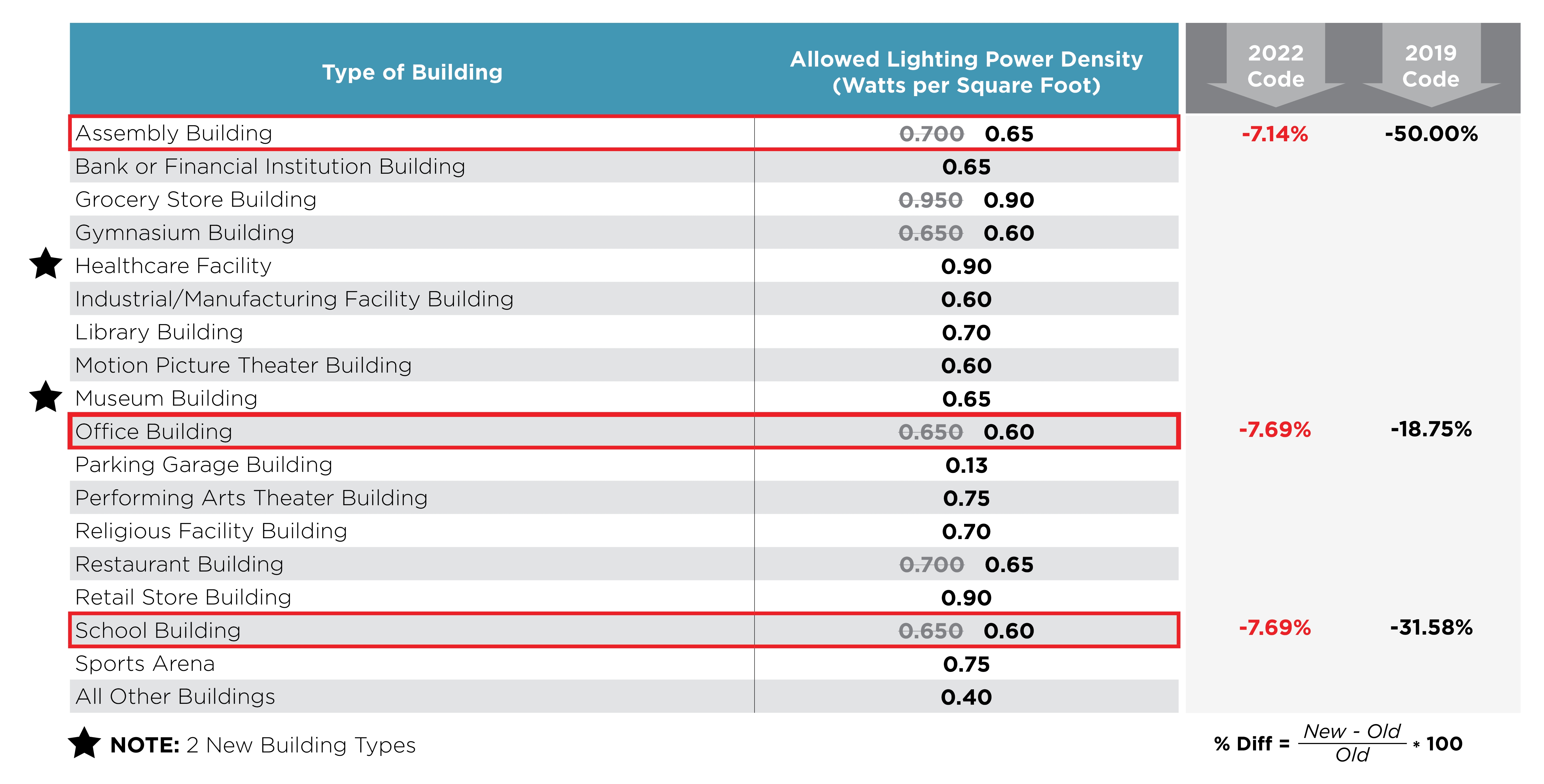 So starts the balancing game between aesthetics and energy use, using the knowledge of the codes to keep our design in place.
While California Title 24 energy code is a good tool to saving energy it can negatively impact the quality of light provided. Designers trying to boost out so much light at a low wattage may be providing solutions that are glary and not comfortable for the users. These fixtures may be efficient but are they good quality with low glare? Shielding light or setting it back into a fixture inadvertently reduces the lumens per Watt. So care has to be taken to again balance out light output and quality of light. Especially in areas where users are located for long periods of time.
We are seeing a trend with our client/owners on requests for replaceable parts. Going back to the days when it was so easy to go down to the hardware store for a light bulb replacement. With integrated LED luminaires flooding the market it wasn't so easy anymore, we now had to replace a whole new fixture which requires an electrician and actually being able to find the same product available not to mention the amount of waste that produces. Are we defeating the purpose of saving energy with LEDs if we are constantly throwing away luminaires? Choosing luminaires with replaceable drivers and LED boards that are accessible from below are a wise choice not only for maintenance purposes but also to reduce waste from throwing away the whole luminaire. We are seeing more and more of these products slowly creep into the market. As designers we should be making a choice to select these products to drive the market change to make other manufacturers follow suit.
Probably one of biggest impacts on the lighting world in regards to sustainability emerged from The Living Building Challenge. A list of harmful materials and chemicals were formed into the LPC Red List, products that meet these requirements are able to display a Red List Free Declare label for their product that lists all the materials included in the product. Luminaires that are rated as Red List free contain none of the LBC's identified concerning chemicals and compounds, luminaires that are Red List approved are dependent on one or more expectations to meet the approved Declare label requirements. Ingredients of the luminaire need to be specified within 100 PPM.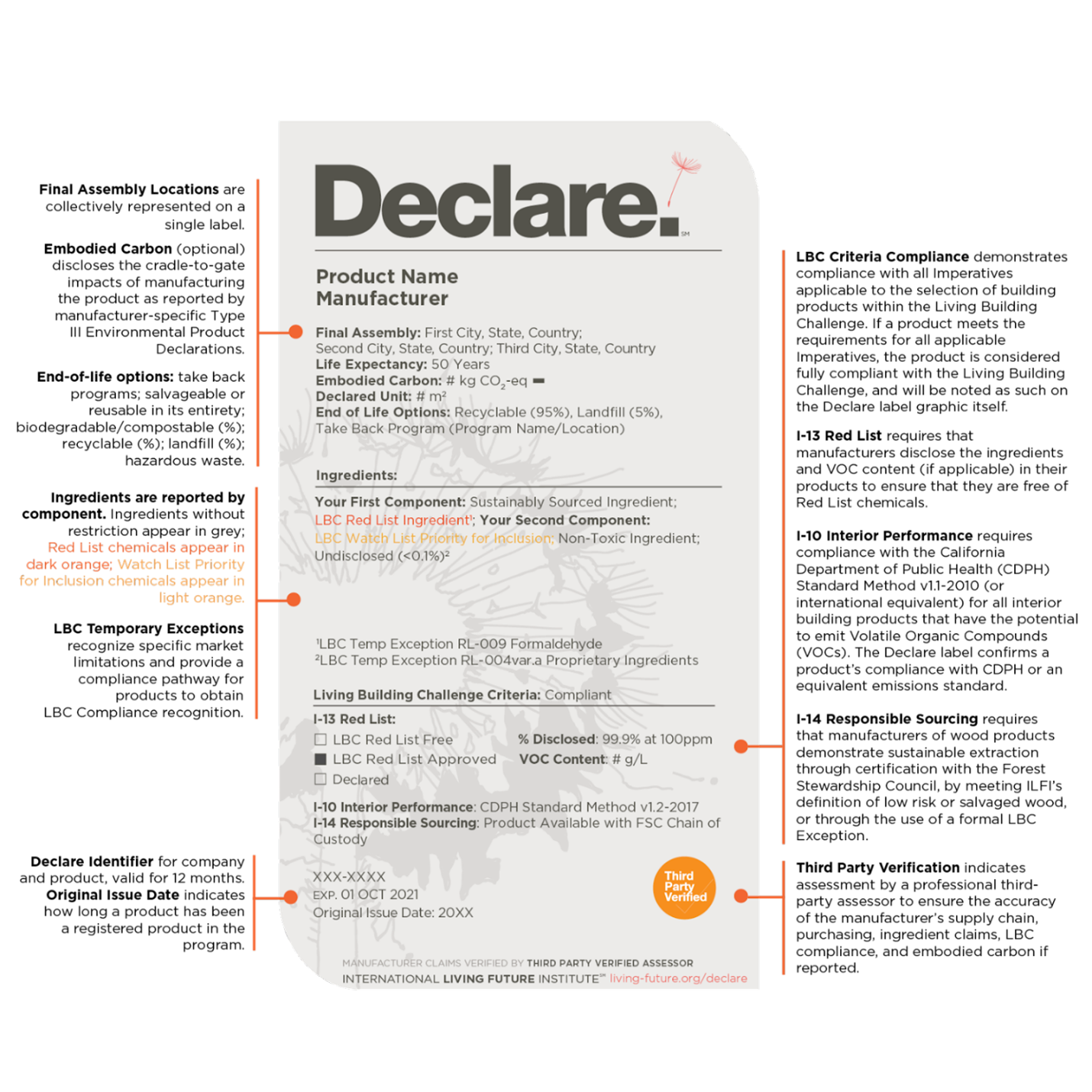 Both Well Building Standard v1 Feature 26 for enhanced Material Safety and Well v2 Feature X13 Enhanced Material Precaution credits do require specifying Declare listed products in order to comply. LEED v4 and v4.1 Building Product Disclosure and Optimization Credit, Option 1 also requires Declare labels. While the number of lighting products with Declare Red List free or approved ratings is limited, we are seeing more and more of these becoming available. There is a lot of time and cost that goes into researching and changing luminaire ingredients in order for the manufacturer to meet the requirements. So what can we do? We should make sure that if we are using Declare rated products that they are clearly listed in the luminaire schedule as a requirement.
Sustainability doesn't just start and end with the manufacturing processes, shipping, packaging and recycling all play a part. We need to think about all these steps when specifying our products. Many manufacturers will obtain a Life Cycle Analysis (LCA) for the materials they use that will help model the environmental impact of a product. This is then disclosed in an Environmental Product Declaration (EPD).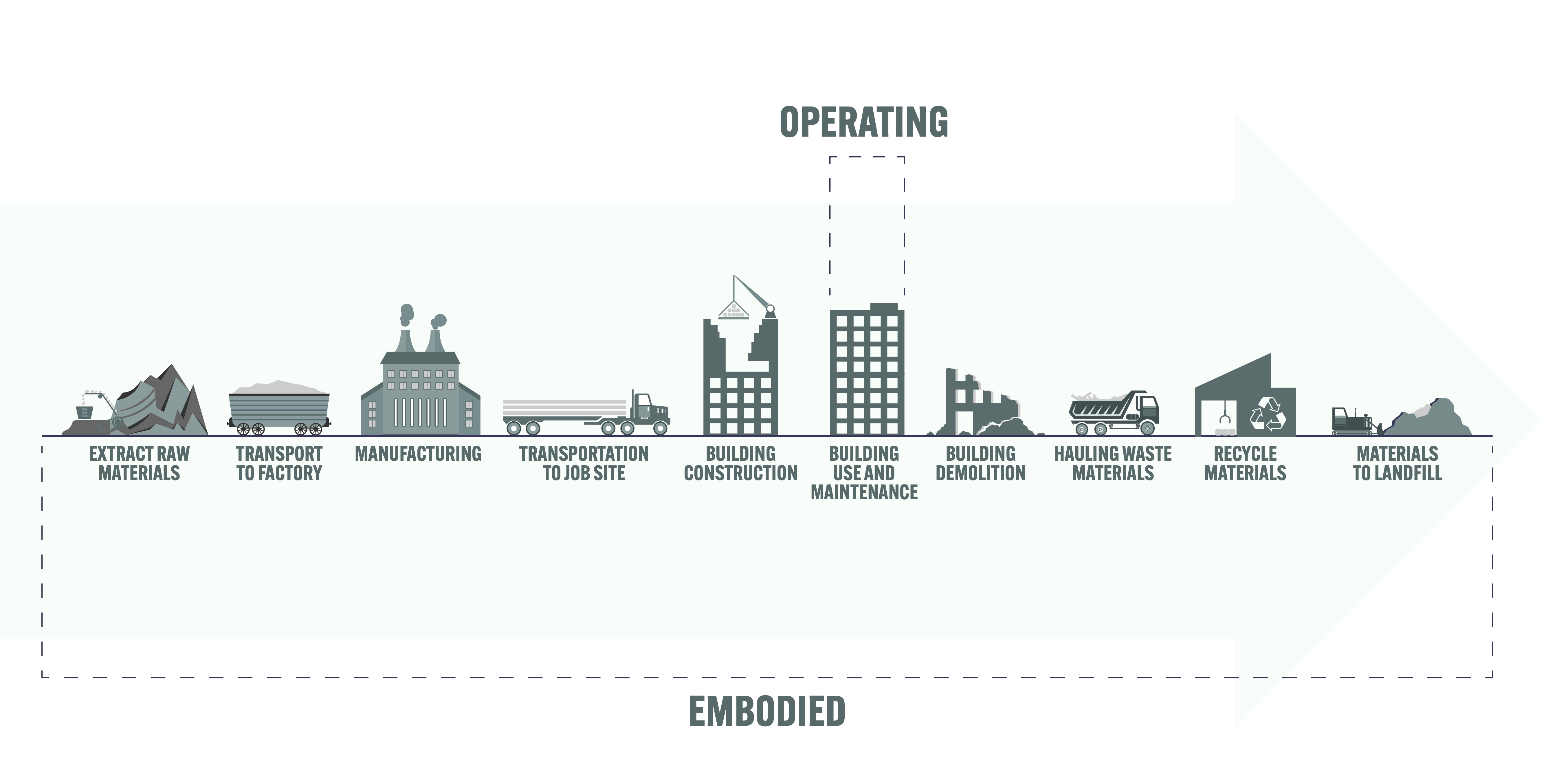 Whether we are a specifier, designer or end user we need to keep in mind the impacts of our choices on the environment. There is a balance between the environment, economic impacts, healthy lighting for the user, and limitations on design that all need to be considered in order to provide the optimum solution.