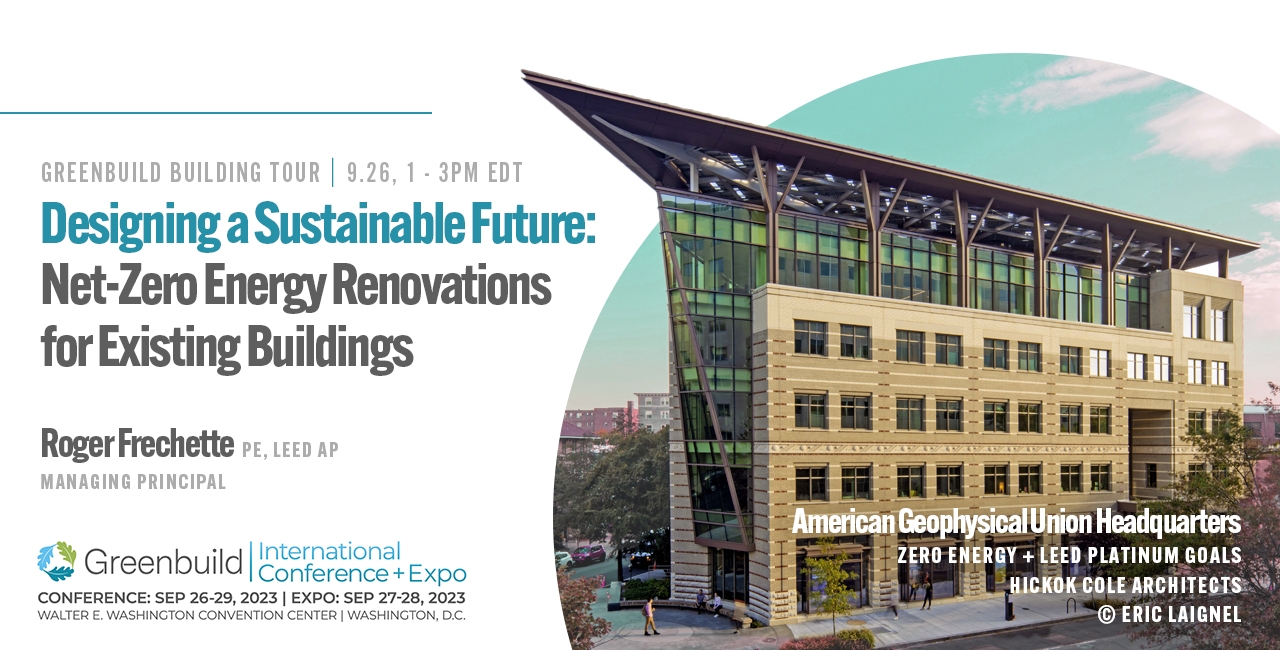 Designing A Sustainable Future: Net Zero Energy Renovations For Existing Buildings
Greenbuild 2023 Tour
Sep 20, 2023
As the Lead of the Engineering team for the project, Roger Frechette, PE, LEED AP will be participating in the Greenbuild tour of the American Geophysical Union (AGU) on

Tuesday, September 26, 2023
Half Day: 1:00 PM – 3:00 PM EDT
This tour is approved for 2 GBCI General CE Credits.
SOLD OUT
TOUR DESCRIPTION
In 2015, the American Geophysical Union (AGU) identified the need for a major headquarters renovation and systems had reached the end of their useful life. AGU sought to communicate its dedication to scientific advancement and reduce the facility's carbon footprint, while actively engaging and educating the public. The result is Washington, DC's first-ever net zero office renovation – a 62,000-SF landmark that reflects AGU's mission and serves as a reminder of the built environment's impact on the planet.
Being in a historic urban district and the site's limited footprint, achieving AGU's net zero energy goals proved highly complicated and involved close coordination across team members from inception. The final product combines a custom mix of ten core sustainable solutions addressing four goals – reduce, reclaim, absorb, and generate – while delivering a modern workplace that supports employees, AGU's members, and the community.
Hear about the highly collaborative and complex process behind transforming an aging building in a major U.S. city to achieve this monumental feat.
For more information on this, and other tours, visit: