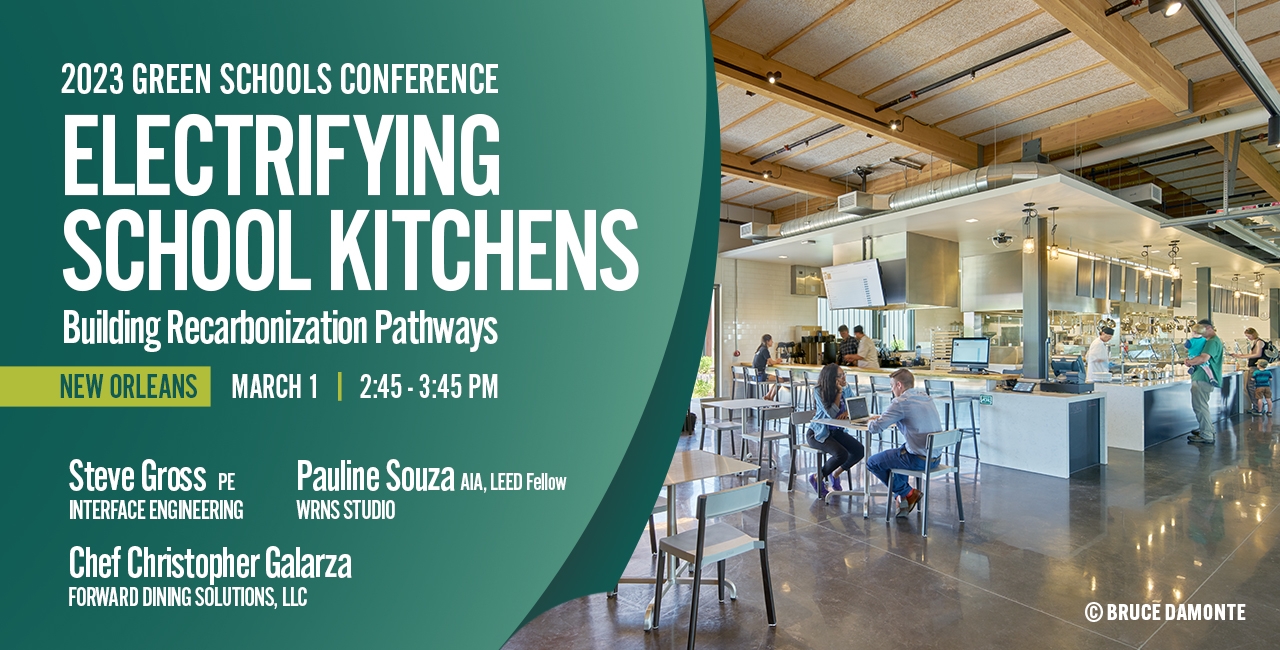 Green Schools Conference
Sheraton New Orleans | March 1, 2:45 - 3:45 pm
Feb 27, 2023
Electrifying School Kitchens: Building Decarbonization Pathways
In the transition towards decarbonization, the final frontier for abandoning natural gas is food prep. In the moderated session, attendees will learn from Christopher Galarza, a chef and Founder of Forward Dining Solutions, Pauline Souza, WRNS Studio, and Steve Gross, Associate Principal and Senior Energy Analyst, with Interface Engineering, about healthier, energy-efficient, all-electric school kitchens. The panel will present their research and real-world findings as outlined in the recently published Building Decarbonization Practice Guide, Volume 5, commissioned by William J. Worthen Foundation, a nonprofit committed to advancing a climate-positive future.
Using two projects — K-12 and Higher Ed located on opposite coasts — the team will share challenges regarding different geographical regions, provide analysis on the health and environmental benefits of electric equipment, and debunk perceived barriers to electrification.

The Green Schools Conference (GSC) brings together all the players involved in making green schools a reality: people who lead, operate, build and teach in schools. Attendees engage in skill building, participate in in-depth discussions and problem solving, and get inspired by speakers at the forefront of connecting sustainability, social justice, and education. Learn more about the conference: Home | Green Schools Conference & Expo.