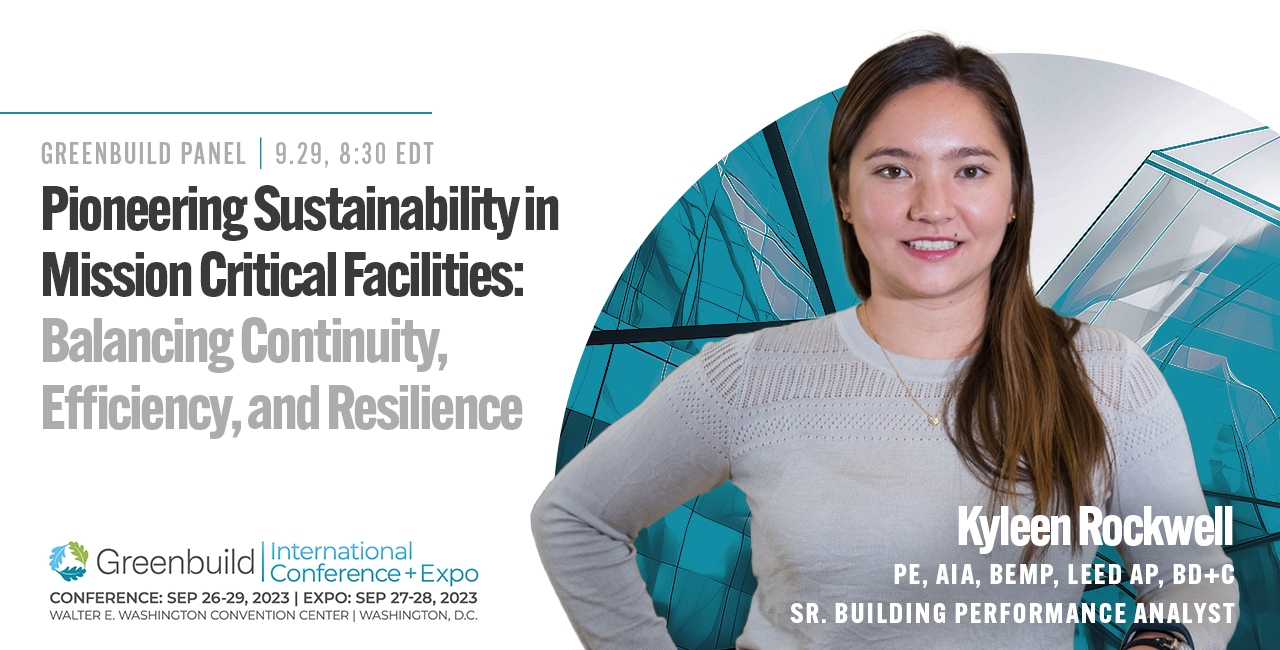 Pioneering Sustainability in Mission Critical Facilities
Greenbuild Conference 2023
Sep 12, 2023
In the face of escalating global environmental concerns, this session illuminates the pathway to greener, more resilient infrastructure without compromising operational continuity. The panelists discuss cutting-edge strategies for incorporating sustainable practices into mission critical facilities such as data centers, hospitals, and transit hubs -- and where sustainable certifications play a role in moving this sector forward.
Recognizing the value of interdisciplinary cooperation, the panel aims to cultivate a collaborative environment where panelists (and attendees) can share their unique experiences, challenges, and solutions. Greenbuild's focus to inspire wide-scale adoption of sustainable practices is the perfect backdrop to discuss this in mission critical facilities and shape an industry that is as sustainable as it is operationally efficient. The collective opportunity of these facility types to drive responsible practices is a crucial piece to a long-term climate change solution.

Our subject matter experts will tackle key topics (including energy efficiency, use of renewable resources, waste management, and innovative cooling systems), and explore the vital intersection of sustainability with redundancy planning and disaster recovery, presenting approaches that weave together environmental responsibility and operational robustness. We will showcase real-world case studies, novel research, and encourage interactive discussion for attendees to gain actionable insights into sustainable facility management.
Panelists include Kyleen Rockwell, PE, AIA, LEED AP BD+C, (Sr. Building Performance Analyst, Interface Engineering), Mary Springer (Assoc. Principal, Snow Kreilich Architects), and Amanda Atkinson, LEED Fellow, LEED AP BD+C, WELL AP, Fitwel Ambassador (VP Sustainable Services, Holder Construction), and will be moderated by Miranda Gardiner (Executive Director, iMasons Climate Accord).

By bridging the gap between environmental stewardship and operational stability, we are forging a future that balances our technological demands with our ecological responsibilities.
(I12) Pioneering Sustainability in Mission Critical Facilities: Balancing Continuity, Efficiency, and Resilience
Learning Objectives:
Discuss how sustainable building products and materials are evaluated in mission critical facilities alongside application of LEED (including the suite of credits related to BPDO).
Understand the impact versus costs in implementing sustainability at scale and in 24-7 facilities.
Identify strategies that can be applied universally across this sector -- and those that need greater nuance due to specific performance requirements.
Leverage various reduction strategies -- all-electric construction vehicles, LCAs, clean power mix -- to develop a robust carbon strategy.
Friday, September 29, 2023

8:30am – 9:30am US EDT

Salon I Earn 1 CE Credit(s)