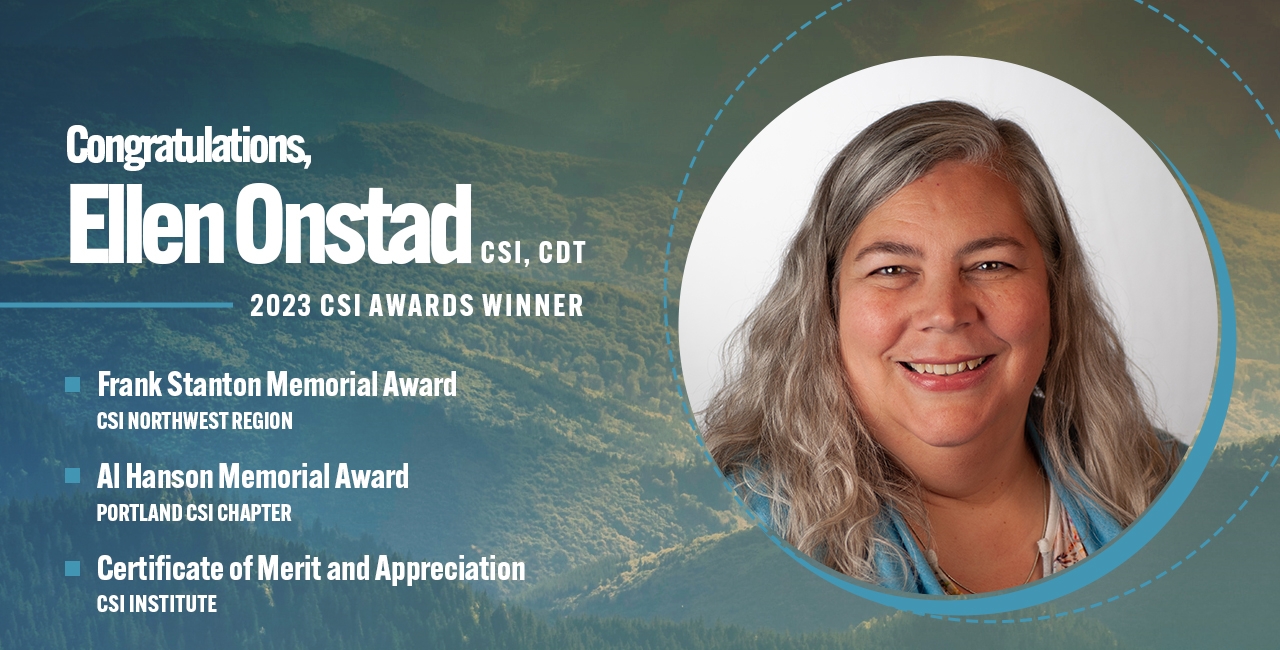 The Construction Specifications Institute Awards Ellen Onstad
Jul 24, 2023
The Construction Specifications Institute (CSI) sets the industry standards for specifications and recognized Ellen Onstad for her outstanding support and involvement to the organization over the years.
She was recognized with three awards this year:
Frank Stanton Memorial Award received May 6, 2023
Awarded to an individual who has rendered outstanding service to the Institute, Northwest Region and its Chapters and contributed greatly to CSI for above and beyond normal expectations. This award is given with due deliberation and is the highest award the Northwest Region can bestow. Ellen's nomination for this award is based on her significant, long-term and continuing contributions to CSI. Ellen just didn't join CSI, she was born into it. Her knowledge base of CSI and those that are a part of this very large community, is immeasurable. Ellen connects people together and always makes sure you made at least one new CSI friend. She is truly a treasured asset and an ambassador for the Region and its Chapters.
- Erica Bitterman-Ryon NW Region Past President
Al Hansen Memorial Award (Highest award from the Portland CSI Chapter) received June 15, 2023
In appreciation of your decade's long tenure, not only as a member but a true CSI advocate, who ALWAYS makes sure everyone is welcome, knows each other, knows how to get involved and how to get the most value out of being a part of Portland CSI. As well as being a trustworthy source of Chapter history, ongoing support for the Board and Committee Chairs and the most genuine friendship I could hope for.
- Kourtney Strong, AIA, CSI, CDT, Assoc DBIA, 2022-2023 Portland Chapter President.
Certificate of Merit and Appreciation from CSI Institute
Presented to Ellen Onstad, CSI, CDT for your devoted and selfless personal contributions to the Institute, while serving on the CSI Board of Directors as Director from the Northwest Region July 2020 to June 2023.
- Arthur "Cam" Featherstonhaugh, CSI, CDT, FY 2023 Board Chair
Join us in celebrating and congratulating Ellen on these outstanding achievements!