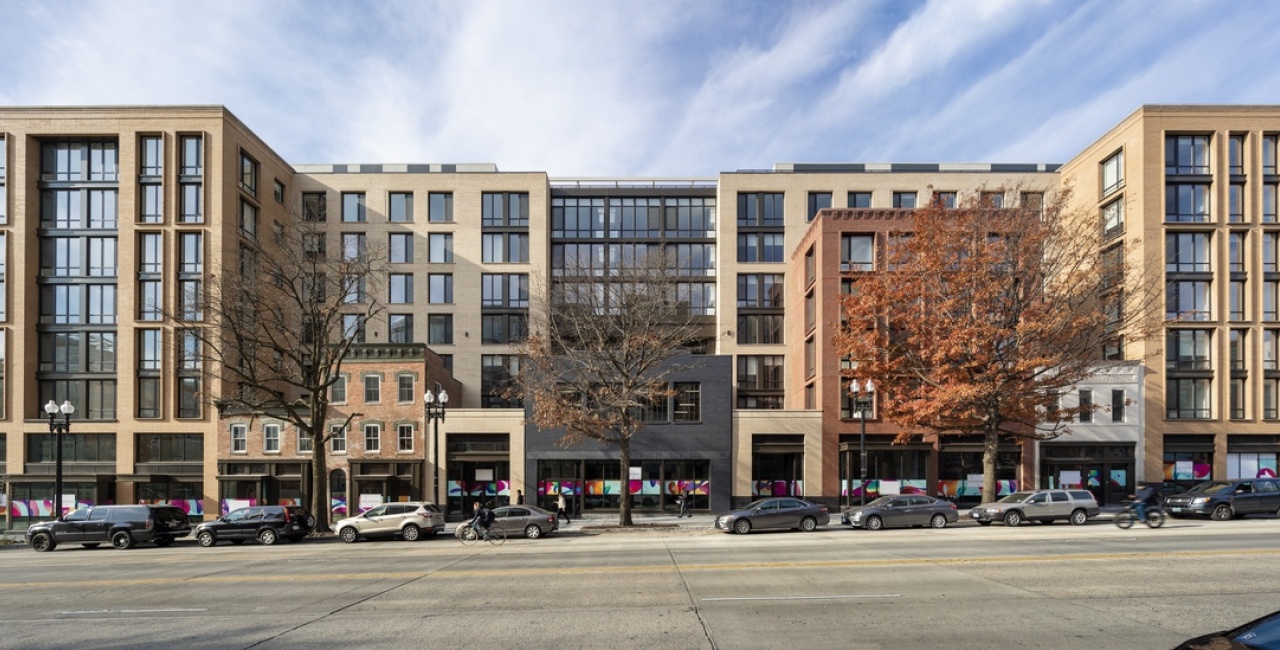 Copyright Andrew Rugge. Courtesy Perkins Eastman.
Collection 14
Collection 14 is a nearly block-length mixed-use project at the bustling intersection of 14th and U streets in Washington DC. The project incorporates several historic buildings in a main street fashion and delivers a design that celebrates the area's history and culture.
Washington, DC
Client: Perkins Eastman
Building Size: 235,000 sf
Project Cost: $60M
Certifications: LEED Gold Certified
Construction included a new residential building over ground floor amenity, service, leasable office and retail spaces, while preserving and incorporating a two-story, 6,000 sf historical façade. The new building is 180,000 sf consisting of seven stories, a penthouse, 233 units, and 25,276 sf of below-grade parking with 105 spaces. The program provides residential choice in a variety of unit types (including twenty affordable units) and features occupied terraces and green roof(s). An entire historic garage building was repurposed as an event space and paired with an arts program that enhances the existing arts activities in the district. The project earned LEED Gold Certification shortly after its opening in April, 2022.
Recommended sustainable features included.: VRF Mechanical system with energy recovery for heating and cooling.
Dedicated Outdoor Air Unit with Total Energy Recover Wheel for building ventilation.
LED lighting throughout with daylighting and occupancy/vacancy controls for all public areas.
Stormwater management through combination of green roof and bioretention systems.