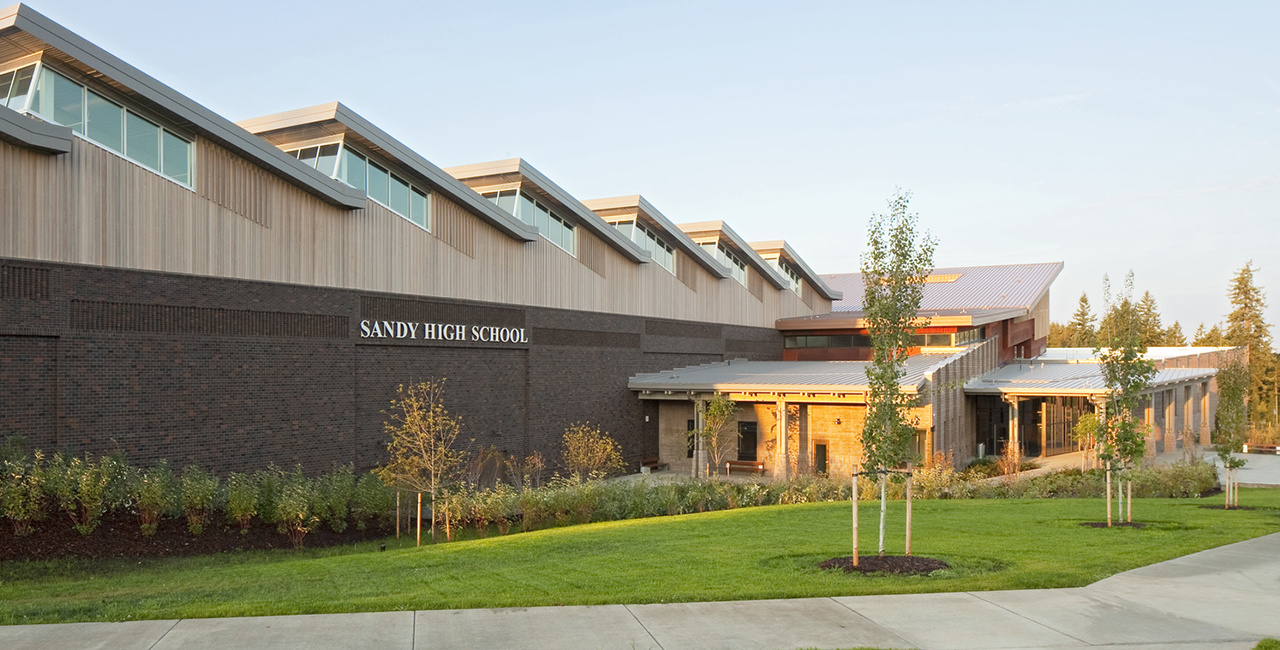 Sally Painter
Sandy High School
A portion of the school operates as an emergency operations center for the surrounding community.
Sandy, Oregon
Client: Dull Olson Weekes Architects—IBI Group
Building Size: 310,000 sf
Project Cost: $75 million
Certifications: LEED Gold
Funded with a $115 million education bond passed in 2008, the LEED Gold facility replaces a much smaller one (about half the size) with a high-performance and cost-effective building. The project includes a geo-exchange system for energy recovery, as well as underground water pipes below the fields, allowing access to the earth's relatively constant temperature (50 degrees) for free heating and cooling. Additional energy savings come from radiant heating and cooling slabs used in the commons, cafeteria, auditorium, library, and the school's entry lobby.
Displacement ventilation systems are incorporated in the classrooms and learning areas, further reducing HVAC and energy use as well as providing superior ventilation effectiveness. During summer months and shoulder seasons, the school runs a night flush for pre-cooling. The roof system includes thermal solar for water heating and provides rainwater harvesting for water reuse. Additionally, it is outfitted with PV solar array – 144 kW. Combined, the MEP systems are 54% more energy efficient than the Environmental Protection Agency's baseline for high schools in the region.
With ample daylight in the new high school, Interface's electrical and lighting teams equipped areas throughout with automatic daylight controls and occupancy sensors. Combined with florescent lighting, the overall lighting density is 25% less than Oregon energy code. Other notable electrical systems include power and telecom design for the district's data center, dispatchable power agreement with local utility covering the genset and switchgear maintenance and fuel costs, and integrated audio/visual and lighting design for a multi-media conference center.
News & Awards
CAE Design Excellence Award, American Association of School Administrators & AIA, 2013
Project of Distinction: New Construction, CEFPI Exhibition of School Planning & Architecture, 2013